Co-op stores rely on our logistics depots to deliver the products our customers love. We have 12 depots across the UK and since we set up Britain's first ever national distribution network in 1874, we've grown to employ over 1,200 colleagues in some of our larger depots. Every week logistics colleagues pick over 10 million cases of products, ready to be delivered to our 2,600 stores nationwide.
Continuous improvement is the name of the game in our state of the art depots. We encourage our logistics teams to share their ideas and help improve the way we work, and we're investing in new technology to make our processes more efficient and improve product availability for our customers.
We regularly hire warehouse operatives, transport assistants, drivers and all kinds of managerial and technical roles. Whatever your job, you'll have an important role to play in making sure Co-op stores always have the right products at the right times for our customers.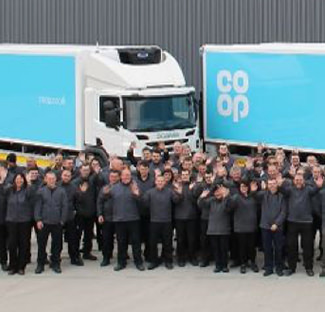 Driving opportunities
We're currently recruiting qualified LGV Drivers at locations across the UK – experience in the retail industry isn't necessary.
Find out more
Don't have a CV?
Don't worry, our CV builder lets you create one in a few easy steps from either your mobile or desktop. Simply fill in the online form and download your CV.
Find out more