It's worth working for
It's challenging work in our warehouse.
You'll spend most of your day on your lollop (like a mini forklift truck) collecting items and distributing them to their proper location in the warehouse.
It'll be up to you to make sure we don't miss any deliveries – that means that what you do has a big impact on our business performance.
Loading and unloading delivery vehicles; picking and preparing stock for individual store orders; keeping everything clean and tidy.
These are just some of your responsibilities.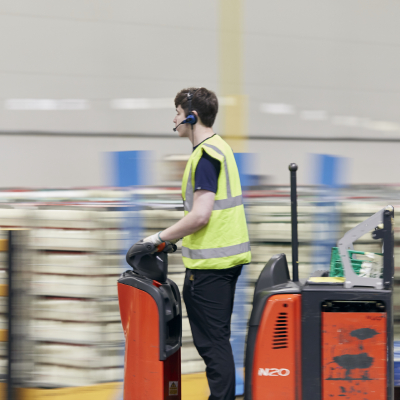 Our pay is competitive

Along with competitive rates of pay and additional shift allowances, we offer plenty of benefits including paid holiday and staff discounts across Co-op products and services. All colleagues also have access to an employee assistant programme giving you access to wellbeing services and retail discounts.

Flexibility to suit you

We offer flexibility with our shifts and we will work with you to help make this a reality. Whether you're a parent, student or working another job, we'll give you the power and freedom to fit your work around your life.

Culture of safety and wellbeing

Your safety and wellbeing is our priority. We do regular risk assessments and checks to make sure our equipment is safe to use. And we offer 24-hour access to free health and wellbeing support for all colleagues.

A career (not just a job)

If you want to progress in a logistics career, we'll support you– whether that's becoming a team manager through our apprenticeship, or training to become an LGV driver.

Great conditions of employment

Our depots are equipped with modern technology and facilities and free parking. On a break, there is the opportunity to pick up a drink and some grub in the canteen.

Working in a team

Our depots rely on team work to stay safe and get the job done. As well working in a large team, there will be periods when you are expected to get on with limited supervision.