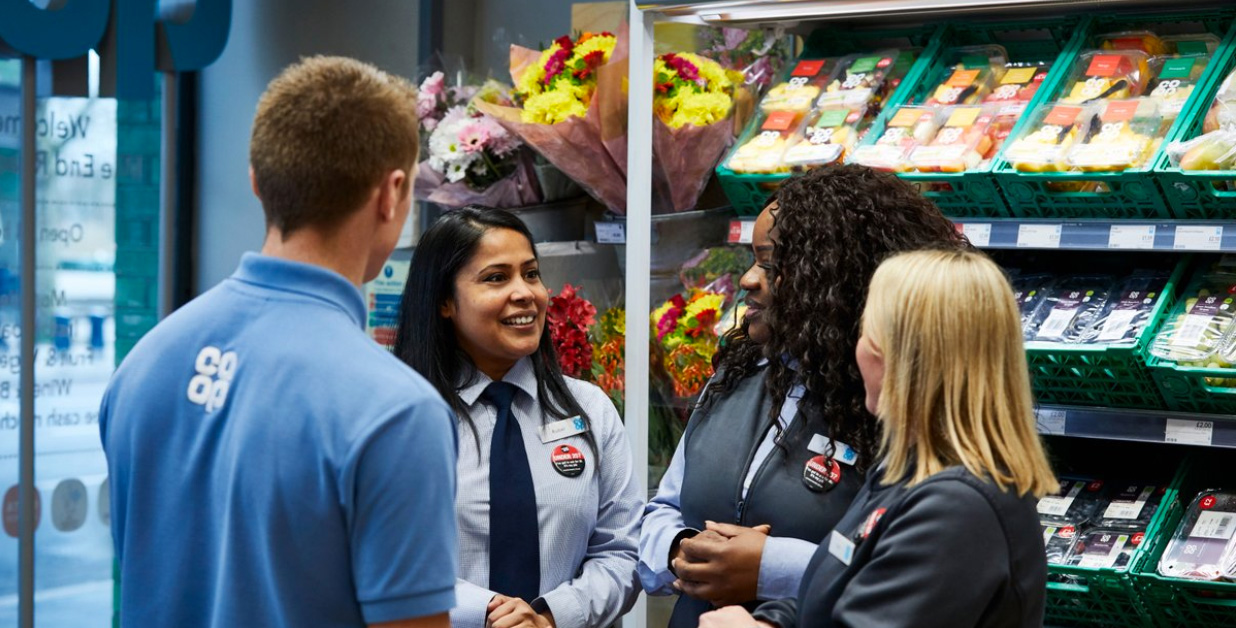 Benefits
Holidays starting from 36 days holiday per year (includes bank holidays)
30% off Co-op branded products in our food stores
Pension with up to 10% employer contributions
Wagestream – a money management app that gives you access to a percentage of your pay as you earn it
Services to support your physical, mental and financial wellbeing
YuLife – a wellbeing app that rewards healthy behaviours with vouchers to spend at your favourite brands
Job Description
Customer Team Leader  
Location: Ripponden Road, Moorside, Oldham, OL1 4JN
Pay: £12.10 per hour + great benefits
Contract: 16 hours per week + regular overtime, permanent, part time
Working pattern: varied shifts including early mornings (store opening), afternoons, late evenings (store closing) and weekends, to be discussed at interview
Full training given
You can now apply for this role using your mobile device
You must be aged 18 or over to be a customer team leader at Co-op, as you'll need to authorise age-related sales.
As a customer team leader at Co-op, you'll help put our store purpose into practice. You'll connect people and causes in your local community, provide great service to our customers, and give coaching and support to our colleagues in-store.
In return, we'll help you to become a purpose driven Co-op leader. You'll learn how our stores are run, and develop your leadership skills so that when an opportunity to progress comes up, you're in a great place to grab it.
What you'll do
• Friendly and thoughtful service – you'll give friendly, welcoming, easy, helpful and thoughtful service every day, often taking ownership for managing the store and handling challenging situations
• Engage with everyone to succeed together – you'll build your team's capability through coaching and training, and create an inclusive culture where everyone feels respected, valued and able to speak their mind
• Make sure the store is safe, legal and operational – you'll manage diligence checks and stock accuracy to make sure our customers have a quick and easy shopping experience, and support your store manager with HR processes
• Embrace change – you'll help to lead change in store, working closely with your team to land new ways of working, and encouraging them to provide open and honest feedback on change activities
• Co-operate for a fairer world – you'll build relationships and get involved with your local community, working closely with your local member pioneer to help them with the development and delivery of their Co-op community plan
This job would suit people who have
• genuine care for the needs of customers and colleagues 
• the ability to strike a balance between leading the team and supporting on the shopfloor 
• great communication skills, with the ability to build positive relationships with all kinds of people 
• strong organisational and problem solving skills
• a desire to learn, grow and develop your skills 
• the flexibility to work a range of shifts 
Why Co-op?
We'll support your development, and help you to grow your leadership skills, so you can build a career in a business with a purpose beyond profit. You'll also get package that includes:
• competitive pay and opportunities for overtime
• Wagestream – a money management app that gives you access to a percentage of your pay as you earn it
• premium rates for hours worked before 6am or after 10pm 
• flexible shifts/working hours and regular overtime opportunities (we provide rotas to your mobile phone 3 weeks in advance)
• Holidays starting from 36 days per year (includes bank holidays) pro rata for part time
• 30% off Co-op branded products in our food stores
• 10% off other brands all year-round (doubles to 20% on the Friday and Saturday after payday)
• discounts on other Co-op products and services
• pension with up to 10% employer contributions 
• cycle to work scheme
• services to support your physical, mental and financial wellbeing
Building an inclusive workplace 
We're actively building diverse teams and we welcome applications from everyone. We want to build inclusive work environments, where our colleagues have equal opportunities to reach their full potential. We celebrate our differences, and recognise the importance of our teams reflecting the communities they serve. 
If you have a disability, we can make reasonable adjustments to our recruitment process according to your needs. We're also part of the Disability Confident scheme, meaning we'll always offer an interview to disabled candidates who apply through the scheme if they meet the minimum criteria for a job.
We'll ask whether you'd like to be considered under the Disability Confident scheme when you apply. 
If we invite you to take part in the recruitment process for any of our jobs, we'll ask you if you need any reasonable adjustments to enable you to participate.
As part of the application process for this job, you'll need to complete an online assessment. It will take around 10 minutes to complete the test.
Expand for full job description
Success profile
What makes a successful member of our team? Check out the top traits we're looking for and see if you have the right mix.
Driving Innovation
Forging Relationships
Co-operation
Inspirational Communication
Supporting Change
What you'll do as a Customer Team Leader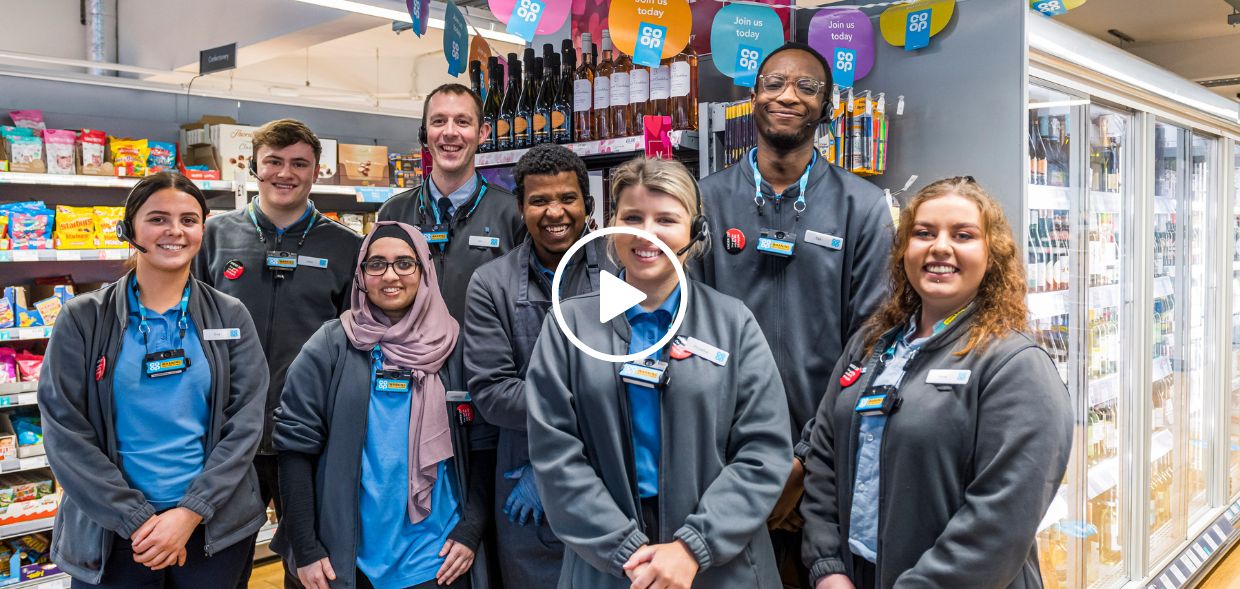 Service with a difference
This isn't your standard food retail job, and no two days will be the same. But the one thing that won't change is your dedication to providing great service to our customers and members. Our stores are a strong part of the local community and we're proud to give back to them. So not only will you be helping customers find what they need, making sure the store looks good, and introducing them to our membership scheme. You'll be building relationships and getting to know who shops with us every day. Because that's what being part of a community is all about. That's the Co-op difference. And you'll do it all with a smile on your face, just so you can put a smile on theirs.
Our culture
Smiling while you work is easy when you see the difference you make each day. Our past, present and future is all about making a positive impact on our communities – and our store teams have the additional pride of making this possible. The conversations you have with our customers and members help us bring attention to local charities and causes. You may even serve the people directly affected. Which fills us all with a greater sense of purpose.
Choose your career path
Every Co-op store has a dedicated team that you'll be part of from day one, with clear opportunities to progress as your skills and experience grow.
Customer Team Member

Customer Team Leader

Store Manager

Operations Manager
Application process
At Co-op, we're passionate about doing great work for the communities we trade in. That means having the right people, from all walks of life and backgrounds, in our team to serve them. Take a look below how to become one of us.
Don't have a CV? Our CV builder is here to help. It's a simple form you can complete on your desktop or mobile that lets you create a great CV in minutes.
You can apply for a job with us quickly and easily on your laptop or phone. It doesn't matter what you've done before or if you have little experience — it's all about matching our values and bringing your passion, motivation and capabilities to your new role.
As part of your application you'll need to complete an online assessment which will measure how well your behaviours, values and motivations match up to this role. It will take around 12 minutes to complete.


We'll send you an email for you to choose a date and time for your interview online – but if you can't make it, don't worry, you can provide the Hiring Manager times of when's best for you. Before your interview, we'll send you a really helpful guide on how best to prepare, so nothing on the day should surprise you, and most importantly what proof you need to bring to prove your right to work in the UK.
If you pass your online assessment and short phone call, you'll be asked to come to one of our stores for an interview.
If you're successful at your interview, you'll receive a phone call from the hiring manager you met to talk about your job offer. If you accept, we'll then send your offer online via an email. Before anything can be processed, we'll need you to accept this offer online. This will start your journey into our Co-op.
Don't have a CV
Our CV builder is here to help. It's a simple form you can complete on your desktop or mobile phone that lets you create a great CV in minutes.
Find out more
Career Development Hub
The Co-op Career Development Hub gives you free access to all kinds of employability resources, including CV and application building tools, practice psychometric tests, video and phone interview simulators and quizzes on ability, motivation, personality and resilience. It's all designed to help you develop your skills and build your career.
Explore now